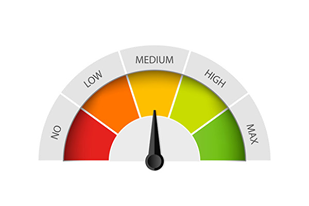 Have you ever wondered about the first thing that your lender checks while processing the loan application? It is your CIBIL score!
Yes, your CIBIL score is the first thing that a lender reviews while evaluating your creditworthiness.
According to TransUnion CIBIL, loans are sanctioned to those with a good CIBIL score of 750 and more.
The higher is your CIBIL score; the higher are your chances of getting the loan approval.
Hence, when you have a personal loan to apply for, you should improve your CIBIL score in advance. And to do that, you should check your credit score. You can do that for free nowadays and instantly. Do you want to know how? Go through this post!
If you know everything about CIBIL score, then it may be easy while applying for a loan. If not, you may have to wait till it gets improved.
Repaying your loan EMIs and other debts on time is one of the best things that you can do to improve your CIBIL score.
Your credit score may range between 300 and 900. It showcases the default's probability of the borrower on his credit history.
You can get an affordable loan with a robust credit score and pay reduced EMIs.
How to check your credit score for free?
Nowadays, checking your credit score for free is now possible if you can follow a few steps. Have a look:
Land on the official website of TransUnion CIBIL and click on the option that says 'Know Your Score.'
You will now need to fill up the online form. It will prompt you to submit personal details like name, date of birth, pin code, address, previous loan history and more.
CIBIL will now send you an OTP to verify your details. You may even be asked to furnish a few more details if needed. CIBIL keeps a record of all loans that you have availed and follows a strict authentication process. Thus, you will need to ensure that you have details of your debts like credit cards, home loans and more.
Once your provided information is verified successfully, you will now receive your CIBIL score for free.
The checking of the credit score is free on the official CIBIL website of CIBIL once in a year.
If you want to check it more than once, you will need to subscribe to CIBIL, make payment and get your report whenever required.
What are the ways you can improve your CIBIL score fast?
Pay your dues on time
The first thing that can improve your CIBIL score is the timely payment of your EMIs. If you miss it or have defaults on it, your credit score may be affected, leading to a lower one.
Avoid taking much debt at a time
You should use your credit smartly and avoid taking too much at a time. You should also apply for a minimal number of loans over a time. To keep your CIBIL score unaffected, you should take one loan, repay it and then take another.
Maintain a healthy mix of credits
If you are able to get the right mix of credits such as secured and unsecured (home loans and personal loans) loans. One should be with a shorter tenure and one with longer to keep your credit score strong. Too many unsecured loans may also be considered negatively and may affect your CIBIL score.
You can now follow the discussed steps to check your CIBIL score for free and follow the tips to improve it faster.
Bajaj Finserv offers pre-approved deals on personal loans, home loans and more to simplify the loan processing and other formalities. You can share your basic details like name and mobile number to check out your pre-approved loan offers today.